april 2015
THE SEVEN YEAR "52" JOURNEY IN 1300 WORDS…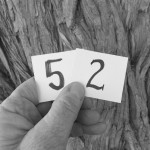 An editor for the online publication Zocalo has, for the past year, been trying to talk me into writing the story of "52." She finally wore me down

and the article was published last week….http://www.zocalopublicsquare.org/2015/04/02/what-i-learned-from-52-cypress-trees-in-52-weeks/ideas/nexus/ . It was hard to capture a seven-year journey in 1300 words especially since I am not a writer! If you feel compelled, please comment and share as Zocalo is trying to become better known in the Inland region.
Zocalo Public Square is a very progressive "not-for-profit daily digital publication…tackling important contemporary questions in an accessible, non-partisan, and broad-minded spirit." They look for first person stories so If you have or know of an interesting story I'll connect you with the editor I worked with…she was so supportive. GREAT ORGANIZATION …follow them on Facebook.
EVERYONE ASKS, "WHAT'S NEXT?"…."THE 52 PROJECT"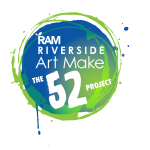 As I wrote in the Zocalo article, being in residence at my "52 exhibition," I got firsthand feedback from visitors about the feelings my own work produced in people. There was a lot of talking, laughing, and even some happy tears. This strong reaction is what museums are supposed to be about—affecting people, making them feel something, inspiring them, and possibly changing their lives.
Talking to people—and reading the more than 200 pages of written comments
– I understood that I wasn't alone: most people have creative talents waiting to be unleashed. And millions of people are reassessing their priorities after the "great" recession.
I knew before the exhibition closed that I wanted to help as many people as possible to have a similar experience. I knew any program would have to be tailored to the realities of most people's lives—working, raising a family, going to school, or maybe caring for aging parents.
Working with the Riverside Art Museum, I helped create "The 52 Project," a self-directed 52-week art journaling exercise designed to help participants develop the routines of capturing their creative thoughts and being artful on a regular basis. The project, which has open enrollment, kicks off May 3 at 1:00 at the Riverside Art Museum. Register at http://www.riversideartmuseum.org/education/adult/
This exercise will lead you to slowly but surely accomplish some exciting things. As Steven Pressfield says in his book, DO THE WORK, "Start before you are ready" …you won't be sorry. Steinbeck believed…"habit seems to be a much stronger force than either willpower or inspiration."
THE PREMIERE SCREENING of the DOCUMENTARY ON "52" WAS A SUCCESS…
The premiere of "Something Like A Sabbatical" was a great success. It showed to a sold out audience and thanks to friends generosity almost $10,000 was raised for the Riverside Art Museum for "The 52 Project."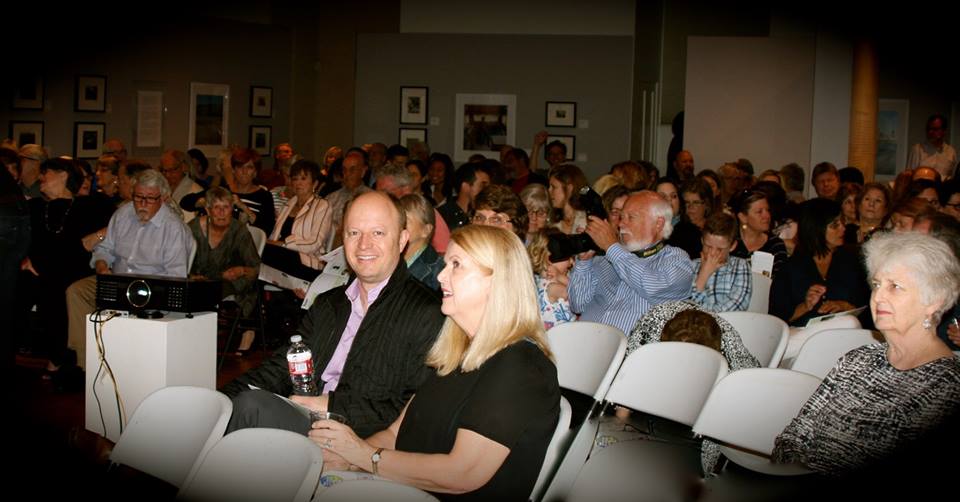 If you missed the premiere screening and would like to see the documentary it will be shown again on May 3rd at the kick-off event for "The 52 Project." This showing is meant for people signing up for "The 52 Project" but if we have extra seats they will be available for $10…e-mail me at sue@riversidepersonnel.com to reserve a seat just for the documentary. Sunday May 3 at 1:00 at the Riverside Art Museum
If you would like a DVD of the documentary…(makes a great gift…perfect for a new retiree, a stay at home parent, an empty nest mom or dad or a closeted artist)… you may purchase the video on the filmmaker's site…http://twointhemiddle.com/2015/03/17/something-like-a-sabbatical-the-film-enters-the-world/ 
I found the filmmaker, Pamela Beere Brigg's, reflections
interesting on how and why she decided to make this film…"I have been thinking back to the moment when the film idea landed in my head and heart. We were driving home after walking through Sue's two-gallery exhibit at the Riverside Art Museum. The exquisite solar etchings of the giant Montezuma Bald Cypress trees had been in one gallery and Sue's day-to-day sabbatical was revealed in a swirl of calendar pages, photographs, sketches, journal entries, and trash (you have to see the film to understand) in the adjoining gallery. It was beautiful and inspiring and humorous and bold and surprising! It stirred up an irrational feeling I haven't had in a long time: I wanted to make a film about this adventure. All films begin from an irrational place. I say that because films are difficult to make. They're complicated and costly and consuming. But I see now that I needed to tell this story about not giving up on our dreams, no matter how afraid we are."
MY FINAL THOUGHTS…
I am glad that the original "52" journey is coming to a close. I never could have imagined what an amazing life altering adventure I was going to experience the past few years but it is time to move on. I will be joining "The 52 Project" and spend the next 52 weeks journaling and figuring out what is next.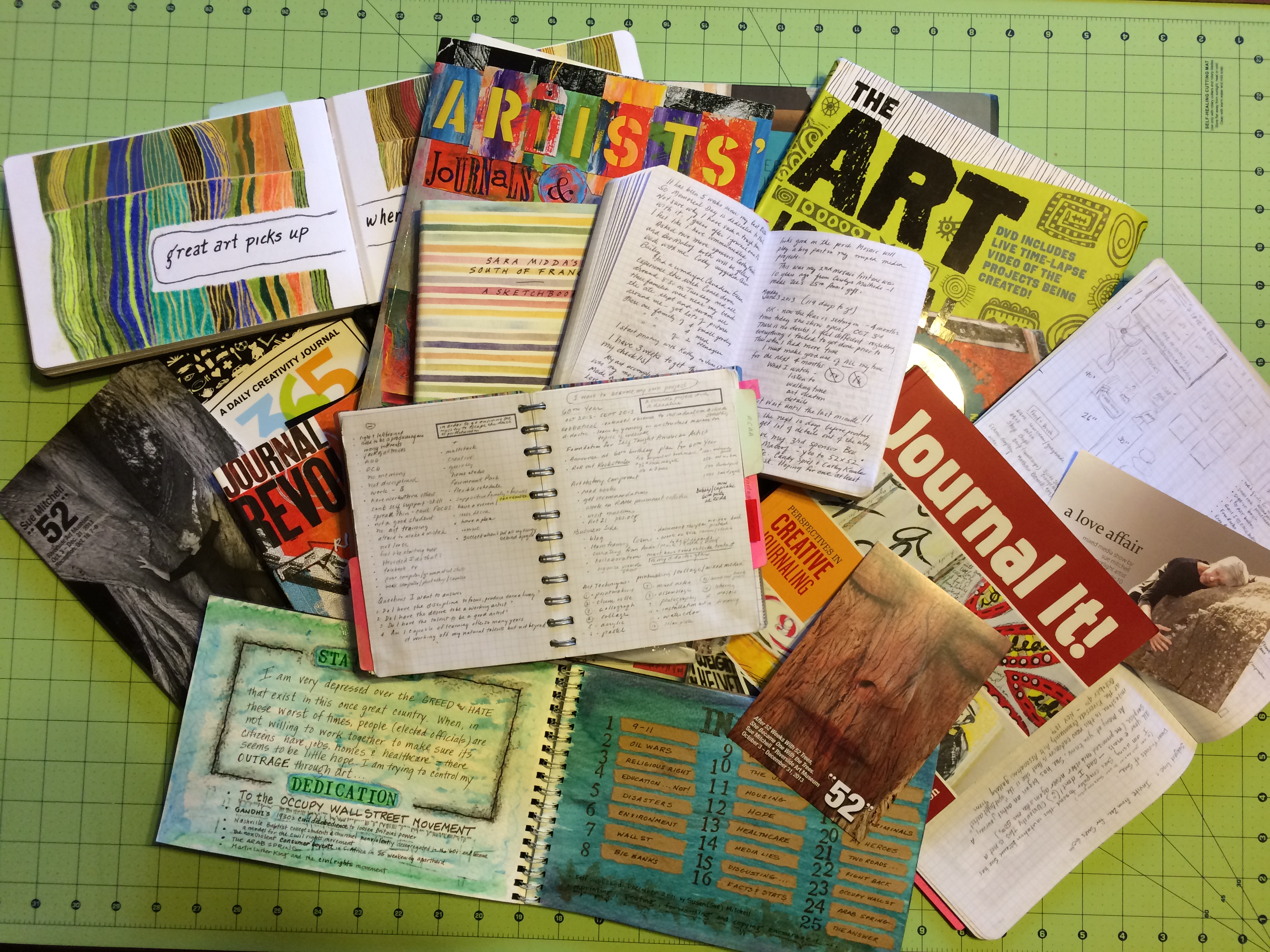 All of your interest and support have truly touched me …a reminder of what is special about this community. We have grown up together the past almost four decades and we support each other personally and professionally. …THANK YOU from the bottom of my heart!!!
You rock…sue
PS "The 52 Project" is generously sponsored by: Ransom-McKenzie Team at Coldwell Banker Armstrong Properties and Karen Allen Salon