october 17 2013
panel discussion…residency…nature walks…poetry readings…details below…please join me for some of the great programming designed to go with the "52" exhibit. Opening night reception is tomorrow, Friday October 18th from 7-9. If you can't make it, the exhibit will be up until Dec 31 with two more artswalk (1st Thursdays) two First Sundays, and all the programming listed below. I will be in residence Oct 22-Nov22 during museum hours Tues-Sat 10-4/ Sun 12-4. Nature walks every Fri & Sat morning during my residency from 8:30 to 9:30 am…details below.

"SPEAK FOR YOURSELF"   (this is going to be outstanding)

…a conversation with Dough McCulloh and Meg Linton
Why be an artist? What does it mean to live your life as an artist? How does one live inside art? An artist and a curator pull back the curtain on current art practice. Expect a lively evening of secrets and revelations, warnings and cautions, startling flashes and wild statements. Part talk, part free-for-all
Oct 24th/ Thursday 5:30 – 7:30
Bobbie Powell Gallery, Riverside Art Museum
rsvp sue@riversidepersonnel.com
Panel with renowned internationally shown photographer, Doug McCulloh and Director of Galleries and Exhibition / Otis College of Art and Design, curator, Meg Linton…two of my favorite arts people.
Join us in the Powell Gallery on the 2nd floor at the Riverside Art Museum at 5:30 for a happy ½ hour hosted by former RAM Executive Director, Bobbie Powell. Panel discussion from 6:00 to 7:30
"Speak For Yourself" is programmed in conjunction with Sue Mitchell's "52"… an exhibit that reveals the results of her 52-week self-directed sabbatical.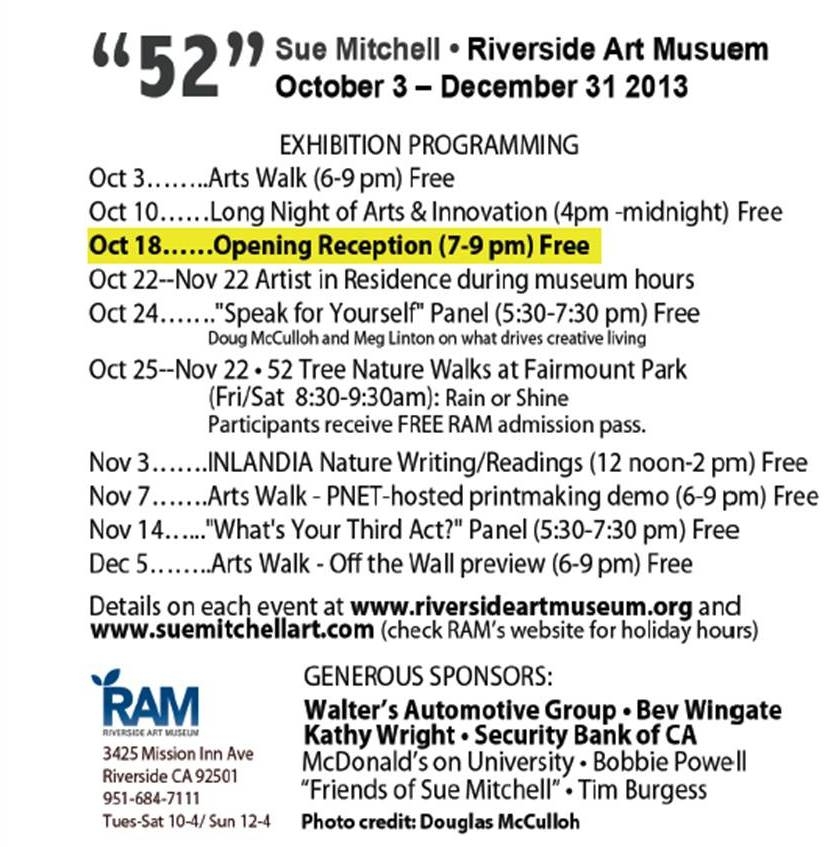 NATURE WALKS at FAIRMOUNT PARK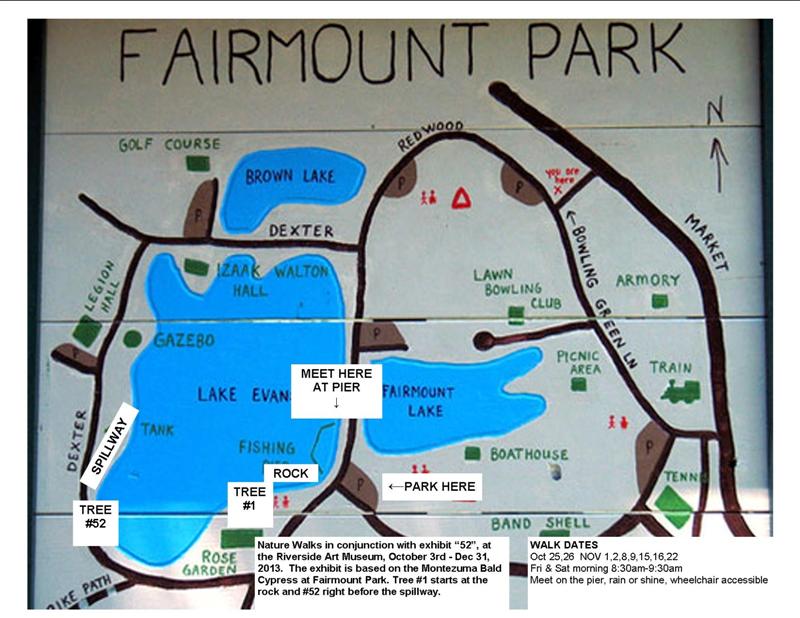 WHERE: Meet on the circular pier between the two lakes
WHEN:  Friday and Saturday mornings Oct 25, 26…Nov 1, 2, 8, 9, 15, 16, 22
TIME: 8:30-9:30 am
COST: Free. You will receive a free admission pass to the Riverside Art Museum
WALK GUIDES: Sue Mitchell and from Inlandia, Gayle Brandeis, Cindy Rinne and/or Cati Porter
PARKING: Across the street from the pier
SPONSORS: The Riverside Art Museum and Inlandia
WHAT YOU WILL SEE: Sue's 52 favorite trees…the waterfowl that migrate through the region…the wonders of Fairmount Park
WEATHER: RAIN or SHINE…the park is magnificent in the rain
WHEELCHAIR/STROLLER ACCESSIBLE
For those interested a writing workshop, the Riverside Art Museum is partnering with Inlandia adding a writing/ reading component to the nature walks . Discover Fairmount Park and the 52 Trees in a new way through writing exercises based on the trees and the environment around you. All levels.
On Sunday, Nov 3 from 12-2 at the Riverside Art Museum, Inlandia will host a NATURE THEMED Poetry/Literature Reading…read your own work or a favorite poem or passage of someone else.
The walks and the poetry reading are programmed in conjunction with Sue Mitchell's "52"… an exhibit that reveals the results of her 52-week self-directed sabbatical. Fairmount Park was her classroom for the year
Now do you understand why I am so tired??? Lots going on. The only way you will understand why I am so proud is if you see the show. The comments have been heartwarming it is really having an effect on people but it is an unusual show so you must see it to understand.
All is good… all of the time…sue