Co-founded Riverside Personnel Services (1978 – current)
Started art career in 2009
Spent my 60th year in a year-long (10/12-10/13) self-directed arts sabbatical
On my 61st birthday I installed a two-gallery exhibition "52" at the Riverside Art Museum (October 3, 2013 – January 5, 2014) I moved my studio to the museum and was in residence for three months.
In March 2015, a documentary on my  60th year arts sabbatical "Something Like A Sabbatical" premiered at the Riverside Art Museum. It was a fundraiser for "The 52 Project"
Helped design "The 52 Project" with the Riverside Art Museum's Education Department…a 52-week self-directed art journaling adventure that launched May 3, 2015. There is open enrollment in case you are reading this after the kick-off.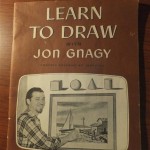 Jon Gnagy told me and millions of children "you are an artist" as I watched his drawing lesson on TV every Saturday morning in the late 50's. I loved the way he looked, how he signed his name and his charcoal drawings. He made me want to be an artist. My Jon Gnagy "Learn To Draw Kit" was a prized possession.
Then in high school I became so intimidated by watching a friend, Sheryl Grise Larsen***, paint a poster-size self-portrait on her lunch hour that I put aside my interest in art.  Instead, I followed my entrepreneurial instinct and, in 1978 at the age of 26, co-founded a staffing service, Riverside Personnel.
The great recession hit hard in 2007 and our successful business fell on rough times. Unemployment in Riverside, CA was over 15%… Detroit was the only place in the country with higher numbers. (It is April 2013 and businesses are finally starting to hire again.)
I have a determined pattern of trying to accomplish something during bad times so that those rough spots don't become lost periods of my life. Past efforts to overcome tough patches have resulted in building a business, getting a degree, losing 30 lbs and the most recent – becoming an artist.
I decided that pursuing a life long interest in art would be how I weathered these tough times. It would be therapeutic, helping me deal with the frustrations of the broken economy and its devastating effects on people. So in 2009 I started taking printmaking classes at Riverside Community College. Three years later, I was asked to be the "Spotlight Artist" at Riverside Community Arts Association's gallery.
That show, "a love affair", in October 2012, coincided with my 60th birthday. To celebrate my 60th year and jump-start a late-in-life artist career I became involved in a year-long, self-directed, arts sabbatical.  This 52 week project ended in October 2013 with a two-gallery/ three month exhibit called "52" at the Riverside Art Museum.
*** My high school friend, Sheryl, who I jokingly blame for my thwarted artistic career and who I haven't seen her since graduation in 1970…came from Colorado to the opening reception of "52"
PRESS ENTERPRISE: Artist Explores Fairmount Park, Printmaking and Life
Published: September 28 2013
Sue Mitchell, the co-founder of Riverside Personnel, took her 60th year off in hopes of jump-starting her long-delayed artistic career.
"I decided that pursuing a lifelong interest in art would be how I weathered these tough times," Mitchell said. "It would be therapeutic, helping me deal with the frustrations of the broken economy and its devastating effects on people."
The resulting exhibit, "52", is a two-gallery show that reveals the fruits and process of her self-directed 52 weeks of study. Mitchell's journey is both a personal story and an indication of a wider cultural phenomenon.
The exhibition will run at Riverside Art Museum from Thursday, Oct. 3 through Dec. 31, with a free reception on Friday, Oct. 18, from 7 to 9 p.m.
Entering into what Mitchell refers to as her "Third Act," she experienced a growing need for a deeper sense of fulfillment and personal exploration that many baby boomers now find themselves grappling with. Whether it be as a therapeutic hobby, a transition into retirement, a new artistic career, or the resurgence of an old one, artistic outlets are becoming more and more important to the roughly 10,000 people a day who will be turning 65 over the next 19 years.
Riverside Art Museum's Bobbie Powell gallery will showcase her "senior project," i.e., solar etchings of the 52 Montezuma bald cypress trees that line her favorite part of Riverside's Fairmount Park (her "classroom" for the year). The adjoining Ross R. DeVean gallery will house an installation of Mitchell's studio, where she will be "in residence" during museum hours from Oct. 22–Nov. 22.
"We are so honored to partner with Sue Mitchell to host her exhibition," says RAM Executive Director Drew Oberjuerge. "It is sure to inspire many that there is no better day than today to pursue your artistic passion. Her journey demonstrates so well that through art we can share so much about what gives us meaning — our surroundings, our milestones, our every days."
Other free programming components include: artist-led nature walks through Riverside's Fairmount Park on Friday and Saturday mornings at 8:30 a.m. during the residency period of Oct. 22-Nov. 22; an Inlandia poetry reading and workshop; a "Speak for Yourself" talk with curators Meg Linton (Ben Maltz Gallery at Otis College of Art and Design) and Douglas McCulloh (independent photographer and curator); and "The Third Act: Creative Beginnings" workshop.
For the full list of events and more information, visit www.riversideartmuseum.org. For more information on Sue Mitchell and her journey, visit her blog at: www.suemitchellart.com.
PRESS ENTERPRISE "Sue Mitchell's Love Affair… "
Written by: Jill Jones
Published: 28 September 2012
Artist Sue Mitchell is embarking on a big year.
She is celebrating a milestone birthday while beginning an ambitious art project that will take from October 2012 to October 2013. It begins with a featured artist display at the Riverside Community Art Association, or RCAA, Gallery at 3870 Lemon St. in Riverside. The opening reception kickoff occurs during the October ArtsWalk on Oct. 4.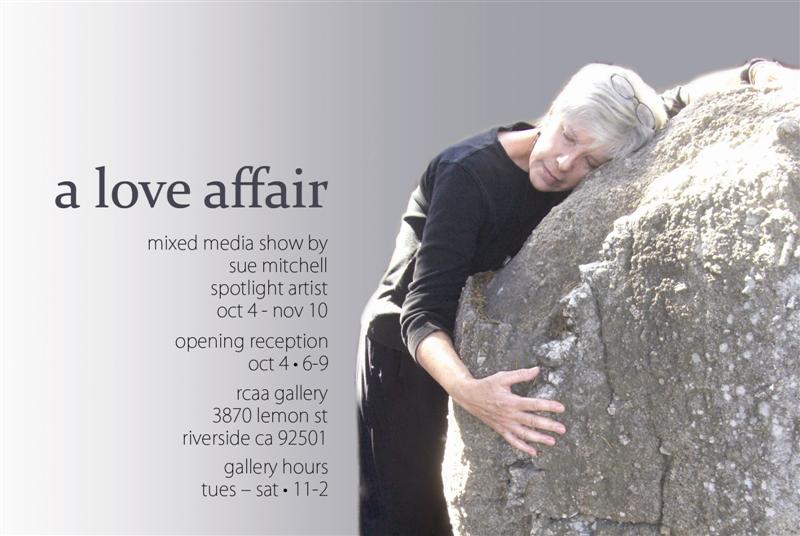 For the display at RCAA, entitled "A Love Affair," Mitchell will present her printmaking and mixed media work that incorporates rocks she has been collecting along the California coastline for 35 years — a collection that is part of her artistic "love affair."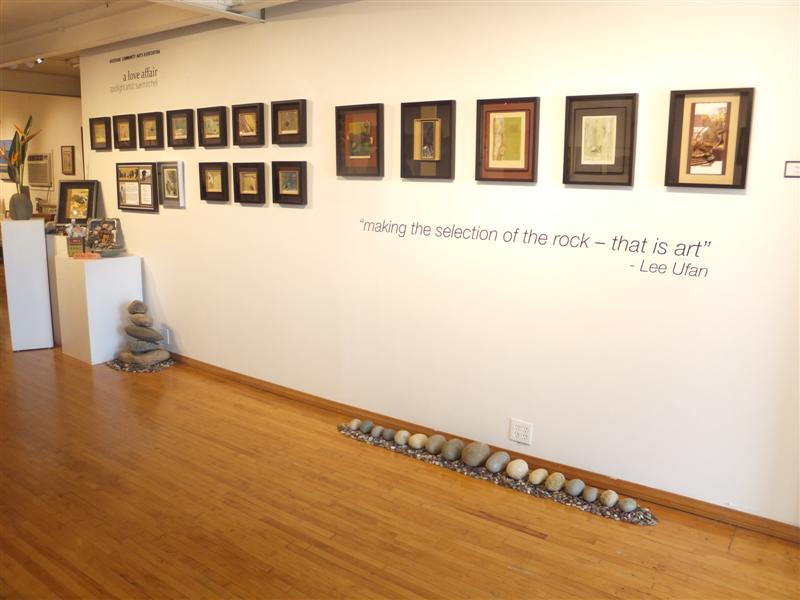 At first the collection served as inspiration only, but as Mitchell became absorbed in more and more printmaking and mixed media classes, she was able to incorporate the rocks into her artworks.
Following the featured artist spot at RCAA, the level of artistic involvement for Mitchell expands dramatically. Mitchell will begin working on a yearlong project that culminates with an exhibit at RAM in October 2013.
As of Oct. 1, 2012, Mitchell will begin an art sabbatical from her work as co-founder and CEO/president of Riverside Personnel Services Inc. The artwork project will begin exactly 34 years to the day of starting up Riverside Personnel Services.
The project, which is creatively and meticulously planned by Mitchell, is entitled "52," as in 52 weeks, or as in artwork of 52 favorite trees at Fairmount Park, but phrasing it in that manner would be to merely reduce the project to a product when it is about so much more than just product.
Mitchell is a heady "thinking person's" type of artist who will drink in the totality of the experience by reflecting on and documenting the process as well as motivating herself to explore creative expressions and products, and to study connections to art history. She has planned a well-rounded course of study and activity as well as lining up resources and mentors to assist in the project.
The exhibit planned for the completion of the project will be held upstairs in two galleries of the RAM museum. One, more process oriented, will feature the elements of her working studio, her work process and how the year progressed.
The second gallery room will be more product-oriented and will house the printmaking studies of her 52 favorite trees in Fairmount Park — the Montezuma Bald Cypress that line a favorite portion of Lake Evans.
In addition to the display, she will also spend a month of the show as a full-time artist in residence and will coordinate art-related activities and educational programs to further enhance the impact of the project. She will share her journey on Facebook and through a blog as well as keeping her followers updated via emails.
"Sue Mitchell is the type of person whose passion inspires everyone around her. She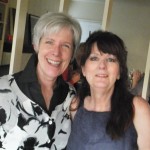 understands the importance of art in her community and has supported artists while developing her own work. She knows what she wants to say with her work and now shares her passion with anyone who stops to look," says artist and art instructor Denise Kraemer.
Mitchell still considers herself new to the artistic world as a participant since she only began working in mixed media and printmaking in 2008, but she is certainly not new in terms of her contributions to the arts community.
She has volunteered her time and money to numerous charities and arts and cultural organizations in Riverside and has been a patron of the arts for most of her life. It is clear that art is in her blood and she is committed to making a uniquely creative journey that brings her full circle.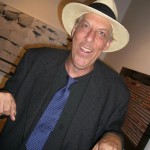 "Sue has been on art's slippery slope for years — aficionado, then collector, then maker of prints and quirky, multimedia assemblages. But now we get to watch as she leaves the slippery slope, goes off a cliff and into year-long free fall. On a 'significant birthday,' Sue's setting off on a dedicated yearlong effort to explore art and herself. Every day. Every hour. For a year. I admire the dedication, intensity, and insanity. It's really a model for all of us. And I'm waiting to see the results," says artist photographer Douglas McCulloh.
For more information about the featured artist display at RCAA, call 951-682-6737. For additional information, visit the artist's new website at www.suemitchellart.com
RIVERSIDE ART MUSEUM ARTIST MEMBER SPOTLIGHT
Written by: Ai Kelley, RAM Communications Director
Sue Mitchell: Philanthropist Extraordinaire
If you live in Riverside, you've probably heard or read about Riverside Personnel Services (RPS). Founded in 1978 by Susan "Sue" Mitchell and Zelma "Zee" Beard, RPS works with companies looking to fill temporary and permanent positions.
Sue received her Bachelor of Arts in Management (with Distinction) from the University of Redlands in 1988 and her Certified Personnel Consultant National Certification in 1990. She uses both to help RPS find jobs for thousands of Inland Empire residents — an invaluable service in this economy.
It should be of no surprise then that Sue is a philanthropist extraordinaire. Not only is it her business to help people get back to work, she has volunteered time and money to countless community organizations, such as the Riverside Community Hospital, the YWCA, the Greater Riverside Chambers of Commerce, the United Way of the Inland Valleys, and, of course, the Riverside Art Museum (RAM) as an active artist-member and member of RAM's Acquisitions Committee. And she has the awards to prove her philanthropic bent; among numerous other awards won both before and after, the YWCA chose Sue to be the first ever recipient of the Peggy Fouke Wortz Award for Philanthropic Excellence in 1995.
Sue not only supports RAM by helping our Acquisitions Committee evaluate and accept new art pieces into our Permanent Collection, she has been a patron of the arts for most of her adult life. "The Riverside arts community is a rich one and then we have Southern CA and its many galleries and museums," says Sue. "Many of these artists have become mentors and friends. I hope to join their ranks in a few years."
Yes, Sue Mitchell is a budding artist. While she has been a business owner for over 30 years, her interest in art has always been lurking. In January of 2009, she began her artistic journey by taking a printmaking class at Riverside Community College with Denise Kraemer.
"I have been a collector of beautiful objects my whole life. When I create, I work 'til I have something I would want to own. If I like the color and design, I am satisfied [and] not worried if it will please others."
Sue currently works primarily in mixed-media: collage, collography, chine colle printmaking, mosaic, and found objects, striving to create her art in a non-toxic workspace.
Her favorite "found objects"? Rocks. Sue has an amazing collection of small stones of various colors and shapes that she deemed "worth bending for".
"My process is to make the print first and then find the 'perfect' rock. I tried the reverse, pulling a favorite rock and then making a print that mirrored the color and design. The results seemed contrived and once I reversed the process, the pieces felt more genuine and true."
The first artwork Sue ever sold was purchased by Bobbie Powell, former Executive Director of RAM. "I love RAM because I can see, make, buy, and sell art in one of Riverside's finest historical buildings with all my art loving friends.…What's not to love about that?!"
NEWSPAPER/ MAGAZINE & YOU TUBE FEATURES ON THE ARTIST
UCLA: "Filmmakers Document The Art Of Becoming An Artist"
Zocalo Public Square: "What I Learned From 52 Cypress Trees In 52 Weeks"
Press Enterprise: "Artist Recounts One-Year Art Project Focused On Fairmount Park"
You Tube: "52 Exhibition 2013" by Sandra Carbonell-Kimtia
Two In The Middle: "Something Like a Sabbatical" documentary trailer
Press Enterprise: "Grant Funds Free Admission To Art Museum"
InlandEmpire.us: "A Grant From The Community Foundation Funds Free Admission To The Riverside Art Museum"
Press Enterprise:  "Artist Explores Fairmount Park, Printmaking And Life"
Press Enterprise: "Art Show Tells Back Story Of An Artist At Work"
ArtPlantae Today: "The Trees Of 52″
Inlandia: "Sue Mitchell's 52 Trees"
Riverside Magazine: "A Year of Artistic Discovery"
KCET's Artbound Series: "Sue Mitchell's Year of Art"
Press Enterprise: "Sue Mitchell's love affair"
You Tube: "a love affair Exhibition 2012"
MASTHEAD PHOTOGRAPHS BY: Rock/ Zelma Beard… Face and Tree/ Doug McCulloh