september 1 2013
Actually, since there are no grades during my homeschooling I guess I can claim that I dropped out of summer school….sounds better than "flunked." Reality set in that this is one monster project …way more than the 52 trees that I had been focusing on the past few months…
a 52-piece show of the trees in one gallery
a 2nd gallery documenting my activities 24/7 for 52 weeks
moving my studio to the museum
seven events scheduled during the exhibit
a performance piece by being on site, in my studio, during museum hours for 30 days
mailing lists, blogs, marketing, food, sponsors…so many details!!!
Confession…I had my second anxiety attack. I woke up two night ago feeling very anxious about getting everything done and then berated myself (out loud) for every minute that I had wasted the past two months. Fortunately the next day I got a lot done so I started feeling la little better. First attack happened early on when I realized I had to do what I proposed.

I long ago realized that the exhibit proposal was the easy part!!!
The good news…
The framing is done! I don't think Cosme will ever forgive me for using museum glass. The prints are framed, boxed and bagged!!
The postcards are in…remember how I was hugging the rock in the picture Zee took for my "love affair" show last year? Well I wore the same outfit and Doug McCulloh captured the tree hugging me!! So thrilled with Doug's photo, you will instantaneously understand why I love the trees. Postcards should be in the mail soon…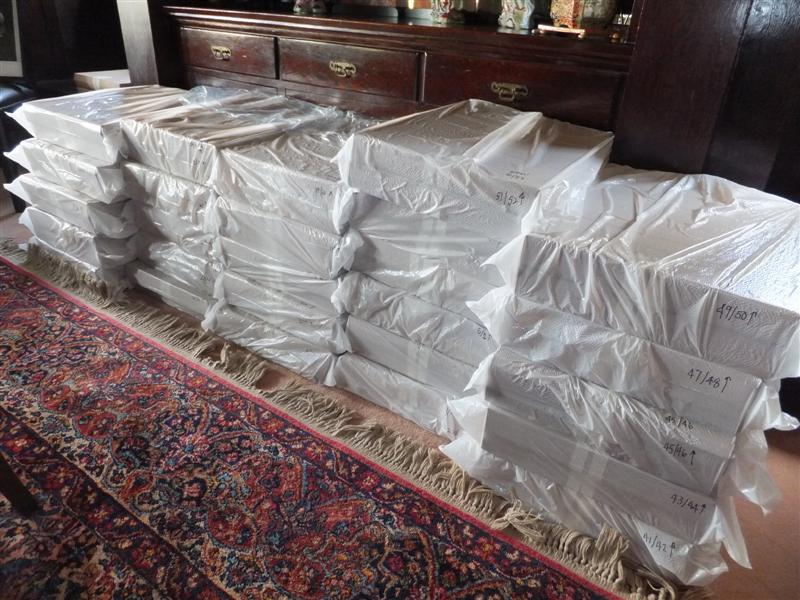 One month…4 weeks…thirty days left!!! Anyway I look at it that jar of rocks is looking really low. I think anxiety is just going to be part of my life the next few weeks so I will embrace it and WINE!!!
All is good…ALL of the time…sue
PS Tomorrow is Labor Day…36 years ago I labored, with much love, and my favorite son, David was born!!! I'm excited because David is coming home twice in Oct to celebrate our birthdays and the opening of "52" If you have never met David, the picture I am about to post won't help you figure out who he is at the opening but since it was taken at Fairmount Park over 30 years ago it seemed a perfect way to end this birthday tribute and post.