"52"/ Sue Mitchell/Oct 3 – Dec 31 2013 / Riverside Art Museum
MUSEUM EXHIBITION STATEMENT….
She was born in '52, has 52 favorite trees, and just finished a 52-week art sabbatical. Sue Mitchell decided to devote her 60th year to art. This exhibition, "52," reveals the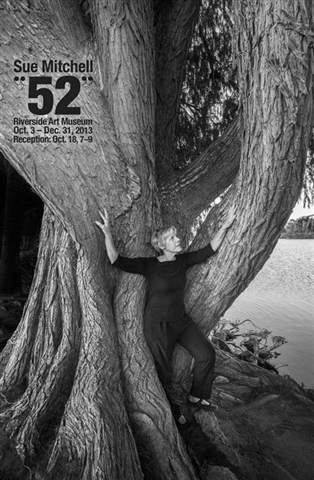 routines and results of her self-directed year of study and art production. Mitchell's journey, which commenced on her birthday, is both a personal story and an example of a wider cultural phenomenon.
Entering what Mitchell refers to as her "Third Act," she felt the need for fulfillment and personal exploration now being experienced by many Baby Boomers. Roughly 10,000 people a day will turn 65 over the next 19 years. Whether as a therapeutic hobby, transition into retirement, new artistic career, or the resurgence of an old one, artistic outlets are becoming more and more important for this age group.
The Bobbie Powell gallery showcases Mitchell's "senior project"—solar etchings of the 52 Montezuma Bald Cypress trees that line her favorite part of Riverside's Fairmount Park (Sue's "classroom" for the year). The adjoining Ross R. DeVean gallery houses an installation of Sue's studio and displays artifacts of the journey, the nitty-gritty evidence of her 52-week foray into art. Additionally, in a month-long performance piece, the artist will be in the gallery/ studio every hour the museum is open from October 22 to November 22, 2013
THE STORY BEHIND THE SABBATICAL AND RESULTING"52″ EXHIBIT…
I am fortunate to live within walking distance of Fairmount Park. (designed by the Olmstead brothers in the early 1900′s…their father designed Central Park). Thankfully they lined the lakes with the magnificent Montezuma Bald Cypress. My daily walk is in what I consider the quietest, cleanest and most beautiful section of the park.
The idea that evolved from much walking, thinking and writing was to take my 60th year off and have a self-directed year of study…primarily about art techniques and art history with secondary studies in literature/poetry and science/nature.  I wanted the project to revolve around Fairmount Park and my home.  I planned to use the 52 Montezuma Bald Cypress trees that ring my favorite part of the park as my inspiration. The number 52 kept recurring…52 trees, 52 weeks in my sabbatical, I was born in 52 … so, even though I was fond of my humorous working title "Homeschooling @ 60″… the title "52″ won out. "52″ was a two gallery show, upstairs at the Riverside Art Museum. The  first gallery, the Powell Gallery was a printmaking study of the 52 cypress trees.The adjoining DeVean Gallery displayed what I did with my 52 week sabbatical.
If you missed seeing my "52″ exhibition or the documentary of my sabbatical/exhibition…"Something Like A Sabbatical," here is a short video/ interview created by Sandra Carbonell-Kiamtia, a high school student in North High School's Film Club. Sandra was just accepted into UCLA's Film School…a class of 15 out of over 1500 applicants.
HIGHLIGHT OF THE "52" EXHIBIT…
UCR's library archived the 52-week gallery of the exhibit
LA filmmakers made a documentary…"Something Like A Sabbatical"

**

on the artist, her 52 week sabbatical and the resulting exhibition
The Riverside Art Museum extended the "52″ exhibit due to the positive response
Jonathon Yorba, Executive Director of the Community Foundation provided a grant for FREE admission so that more people could see the exhibit
Over 10,000 museum visitors during the exhibitions run due to FREE admission and the Festival of Lights
The artist extended her 30 day residency to 101 days because of the response.
The artist hosted 25 programs. (seminars, poetry reading, botanical drawing, printmaking demos, nature walks at Fairmount Park, Art Walks and First Sundays)
The artist helped raise $52,000 for the museum …through sponsors, 'Friends of Sue' donations, a membership drive designed by the artist to run during the exhibit, promotion of art education classes and the sale of the 52 solar etched prints….
40 of the of the 52 solar etched tree prints sold and now reside in Chicago, DC, Indianapolis, Pittsburgh, Toledo, Phoenix, Denver, LA, Newport, San Diego and Riverside
Due to the very visceral reaction to the 2nd gallery (that occasionally included crying) and over 200 pages of written comments the "The 52 Project" was created by the artist and the education staff at the museum. It is being offered as one of the Riverside Art Museum's 2015-16 ART MAKE projects
** "Something Like A Sabbatical" is by award-winning documentary filmmakers Pamela Beere Briggs and William McDonald. Some of their work includes…"Funny Ladies: A Portrait of Women Cartoonists" & "Women of Mystery: Three Writers Who Forever Changed Detective Fiction." Bill (producer-cinematographer) and Pamela (producer-director) have been working together ever since they were UCLA graduate students. Bill teaches cinematography at UCLA where he is Professor and Chair of UCLA's Department of Film, Television and Digital Media. Pamela writes stories when she is not immersed in telling a story on film
…a quick video of the 52 Trees gallery of the "52′ exhibit at the Riverside Art Museum.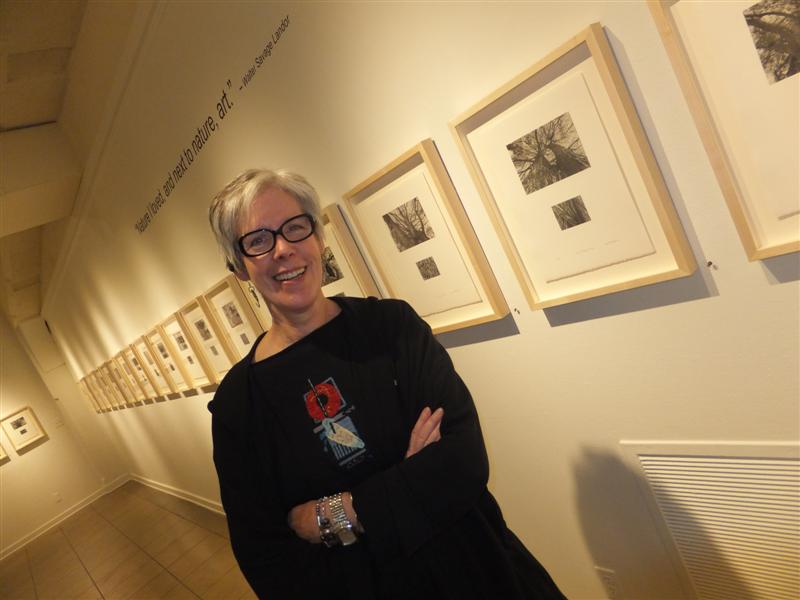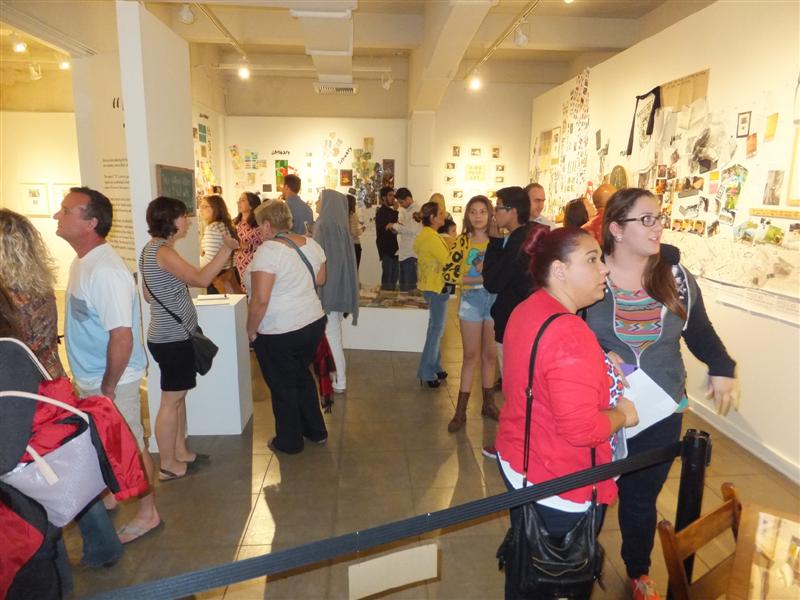 COMMENT BOOK QUOTES…
"I am exhausted but inspired!"…"The curatorial voice is both loud and calming."…"inspiring, authentic, engaging, moving, intelligent"…" It will take me 15 trips to see everything"…" Moved to tears"…"Super crazy for an exhibit, my eyes were drawn everywhere."
EXHIBITION SCHEDULE OF EVENTS …   
Oct 3………

Arts Walk (6-9 pm) FREE 

Oct 10……..The Long Night of Arts & Innovation (6 pm-midnight) FREE

Oct 18

……….

Opening Reception (7-9 pm

)

FREE   
Oct 22..to…Nov 22:  Artist in Residence during museum hours 
Oct 24…….."Speak for Yourself" Panel (5:30-7:30 pm) FREE Happy ½ Hour/ 5:30-6:00pm hosted by Bobbie Powell. Panel member photographer/curator, Douglas McCulloh and Galleries and Exhibit Director at Otis College of Arts and Design, Meg Linton, will discuss what drives creative living. For artist and art patrons.
Oct 25…to…Nov 22…

52 Tree Nature Walks at Fairmount Park.  Participants receive FREE RAM admission pass. Wheelchair/stroller friendly, rain or shine.

Nov 3……….Nature Walk…Writing/Readings (12 noon-2 pm) FREE with Gayle Brandeis/sponsored by Inlandia, write your own or read your favorite nature poem or passage.
Nov 7……… Arts Walk – PNET-hosted printmaking demo (6-9 pm) FREE
Nov 14…….."What's Your Third Act?" Panel (5:30-7:30 pm) FREE Happy ½ Hour 5:30-6:00 then the discussion "Creative Outlets Help Enhance Ones Quality Of Life".
Dec 5……….Arts Walk – Off the Wall preview (6-9 pm) FREE
Dec 31……..Exhibition closes
Jan 4.………..Exhibition extended
A FEW EXAMPLES OF THE 52 SOLAR ETCHED PRINTS … The 52 solar etched prints surrounded the gallery  walls and the floor represented the lake. All 52 prints can be viewed in the gallery for the "52" exhibit.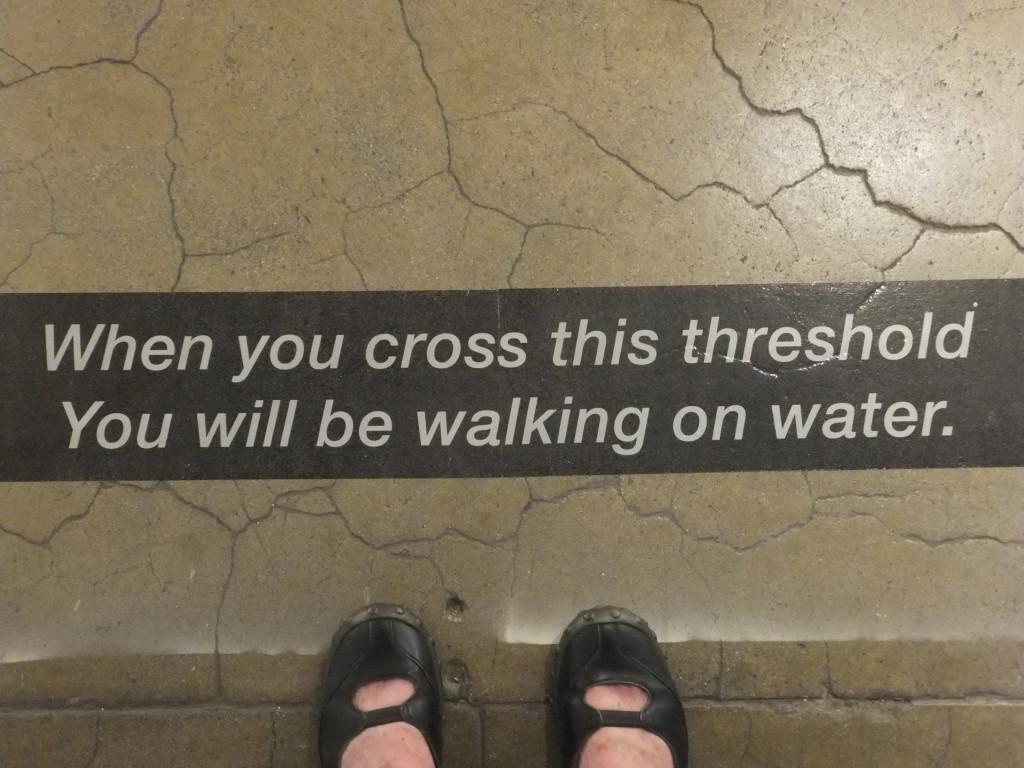 NEWSPAPER/ MAGAZINE & YOU TUBE FEATURES ON THE ARTIST UCLA: "Filmmakers Document The Art Of Becoming An Artist" Zocalo Public Square: "What I Learned From 52 Cypress Trees In 52 Weeks" Press Enterprise: "Artist Recounts One-Year Art Project Focused On Fairmount Park" You Tube: "52 Exhibition 2013" by Sandra Carbonell-Kimtia Two In The Middle: "Something Like a Sabbatical" documentary trailer Press Enterprise: "Grant Funds Free Admission To Art Museum" InlandEmpire.us: "A Grant From The Community Foundation Funds Free Admission To The Riverside Art Museum" Press Enterprise:  "Artist Explores Fairmount Park, Printmaking And Life" Press Enterprise: "Art Show Tells Back Story Of An Artist At Work" ArtPlantae Today: "The Trees Of 52″ Inlandia: "Sue Mitchell's 52 Trees" Riverside Magazine: "A Year of Artistic Discovery" KCET's Artbound Series: "Sue Mitchell's Year of Art" Press Enterprise: "Sue Mitchell's love affair" You Tube: "a love affair Exhibition 2012" MASTHEAD PHOTOGRAPHS BY: Rock/ Zelma Beard… Face and Tree/ Doug McCulloh