october 13 2013
It has been two weeks since we installed "52"…what a crazy, exciting, exhausting and dramatic time! Not only have I been floating on air from sheer excitement but I've been walking on water, too, and so will you.
Over 1000 people have already been through the upstairs galleries from Artswalk, First Sunday and Long Night. I cannot wait for all of you to see "52"!! I hope you are coming to the opening, Friday Oct 18th, if so…please let me know.
The two weeks have not gone without drama…1/3 of the DeVean Gallery (where my studio and what I did with my 52 weeks is displayed) had to be tarped and 6 trash cans placed strategically because of major leaks during Wednesday's rain. No damage, this time! I'm calm, for now, but only because no rain is forecast before the opening.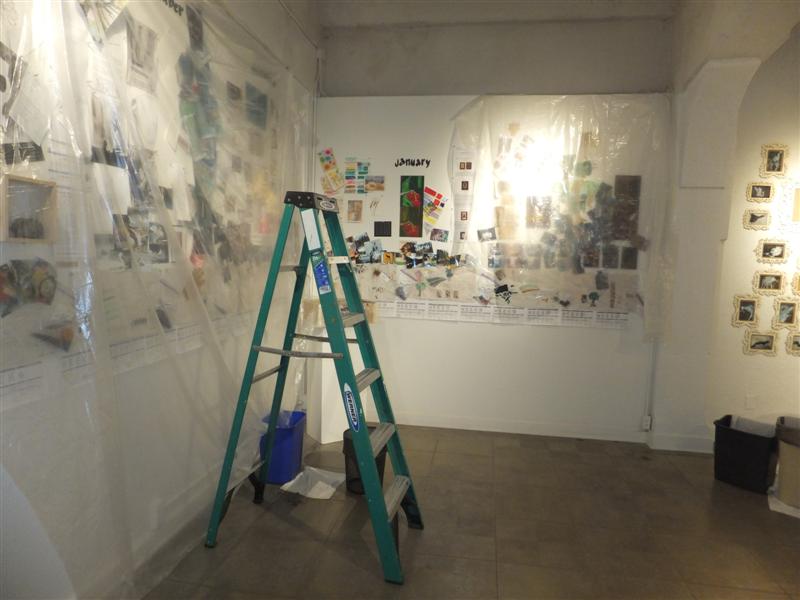 The reality is that this gallery will have to be closed down for future shows unless they can repair/replace the roof…both options are expensive. One easy and leveraged way to help…if you are not a member of the museum… consider joining. All NEW memberships during the "52" exhibit will trigger over a $200 donation from my wonderful event sponsors…Security Bank of CA, Walter's Auto Group, Beverly Wingate Maloof and Kathy Wright. This link will take you to the membership page. http://www.riversideartmuseum.org/support/52-membership-drive/ If you are already a member …consider giving a gift membership. The museum has special membership rates tied to my exhibition through the end of the year.
Another way to help is by becoming a sponsor of the exhibit by giving to the "Friends of Sue." NO donation is too small… use the link above…the donation button is located at the bottom of the membership page.

This is going to be an exciting week…my favorite son will be coming in from Phoenix, my college roommate from Ohio and two of her children from Chicago and Pittsburgh (one being my godchild), my high school friend from Colorado, who I will be seeing for the first time in 42 years, and friends and family from around southern California!!
I am one tired but grateful and happy artist. All is good…all of the time (except when the roof leaks)…sue