october 2 2014
…sue and "52" are alive and well…  plans for "Phase Two of 52" are being formulated :)…
I am writing today because it has been one year since "52" opened at the Riverside Art Museum. Seemed like the perfect time to resume contact. I remember the scared feeling I had when I walked into this empty gallery, on my 61st birthday, and realized I had three days to fill it and the adjoining gallery…190 ft of wall space!!! Thanks to my dream team…Zee, Todd, Steven and Allen…we did it!
This is what the two galleries looked like for the next 101 days…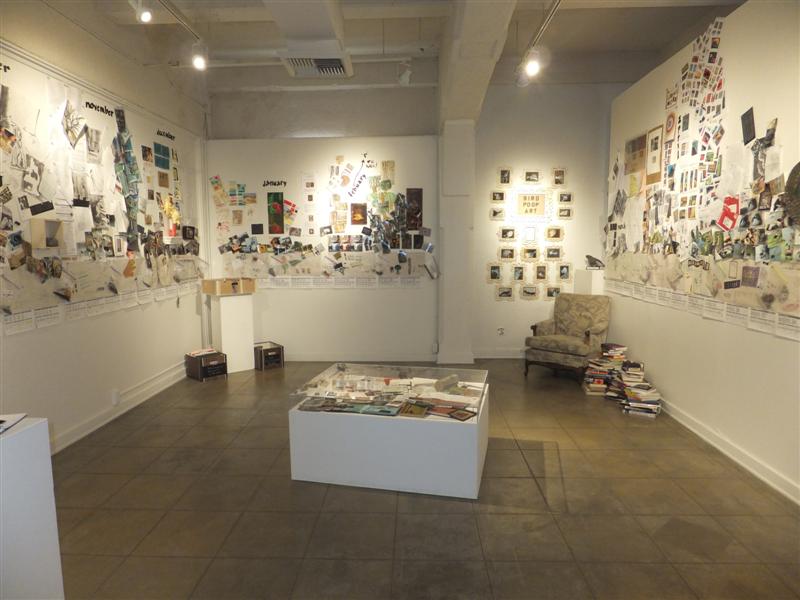 I have been purposely silent, blog-wise, since my last post nine months ago. I felt you needed a rest from me and me from "52." There was some expected exhaustion attached to the two-year journey. I also had a long list of deferred things to attend to…like visiting family and friends, upgrading everything technological in my life, medical check-ups, home chores, balancing my checkbook for the first time in over a year…you name it …it needed my attention. Sabbaticals are great but when they are done you do pay the price for that luxury of a protected life.
I have also been working with the filmmakers, Pamela Beere Briggs and William McDonald on their documentary "Something Like A Sabbatical." They filmed in Riverside for six days…at the museum, in the park and in my studio at home.  OK, it is awkward to be the subject of a film but Pamela and Bill are so kind and easy to work with that this a been quite an enjoyable experience. Zee and I went to LA a couple of weeks ago to see the rough cut. It was so exciting to see the exhibit again. Bill captured so much amazing footage and Pamela and her editor, Esther Shubinski, tell what I think is a very motivating story. I know watching it inspired me to start moving forward more actively with phase two of "52."
Screenings of "Something Like A Sabbatical" will be in early 2015
I started thinking about phase two towards the end of the "52" exhibition. Since I was in residence, I was able to witness daily the reaction to the exhibit. It was visceral!! !f the visitor had a creative bone in their body something about the back gallery seemed to rip it open. With talking to thousands of people and reading the 230 pages of comments I started to think about how to take another 52-week journey but invite anyone who wanted to join with me.
The details are being worked out and will be announced late 2014 or early 2015.
I still get very emotional when I think or talk about my sabbatical, the exhibit and all the incredible experiences I had. I was so fortunate to get to live with my work and my dream…it was hard to see it come down. But the best parts were the support of family and friends and the awesome interactions I had everyday in the galleries. Still can't believe I did it. Still feeling proud.
…sue
PS Today happens to also be the 36th Anniversary of when Zee and I started Riverside Personnel. This is the fantastic team that survived the great recession. Magen, Catina, Sue, Zee, Cheryl and our fearless leader, Kathy!!