The story behind the show…"a love affair"…
For thirty-five years I have been collecting beautiful rocks along the California coastline.  In 2009, I made a serious commitment to become an artist (the big 6-0 was looming!) I started taking printmaking classes at RCC from Denise Kraemer. I had this crazy idea to incorporate my special rocks into my art. I tried to explain this to Denise — she would just nod and smile.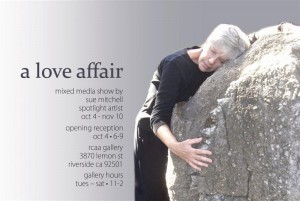 Before each class began I would pour a pouch of rocks out on my work area and carefully arrange them for inspiration. It took most of the term before I created my first masterpiece that involved a rock… "Just Ask" named when my son said "what do I have to do to own this piece?" I very excitedly showed Denise my work and I could see the relief in her eyes as she exclaimed "Finally, I get it. I haven't had a clue what you were talking about!"
The spotlight exhibit at the rcaa gallery was a collection of rock enhanced prints and mixed media pieces that I had created during my printmaking classes at RCC.. Below is a short video of the exhibition.
"a love affair" was the kick off to a 52-week self-directed art sabbatical starting October 1, 2012. Details of this year-long adventure are in the articles below. The sabbatical ended with the exhibit "52" at the Riverside Art Museum from October 3, 2013 – January 4 2014.
Here is a sampling of my rock infused series. (More found in the gallery for the "a love affair" exhibit.)
NEWSPAPER/ MAGAZINE & YOU TUBE FEATURES ON THE ARTIST
UCLA: "Filmmakers Document The Art Of Becoming An Artist"
Zocalo Public Square: "What I Learned From 52 Cypress Trees In 52 Weeks"
Press Enterprise: "Artist Recounts One-Year Art Project Focused On Fairmount Park"
You Tube: "52 Exhibition 2013" by Sandra Carbonell-Kimtia
Two In The Middle: "Something Like a Sabbatical" documentary trailer
Press Enterprise: "Grant Funds Free Admission To Art Museum"
InlandEmpire.us: "A Grant From The Community Foundation Funds Free Admission To The Riverside Art Museum"
Press Enterprise:  "Artist Explores Fairmount Park, Printmaking And Life"
Press Enterprise: "Art Show Tells Back Story Of An Artist At Work"
ArtPlantae Today: "The Trees Of 52″
Inlandia: "Sue Mitchell's 52 Trees"
Riverside Magazine: "A Year of Artistic Discovery"
KCET's Artbound Series: "Sue Mitchell's Year of Art"
Press Enterprise: "Sue Mitchell's love affair"
You Tube: "a love affair Exhibition 2012"
MASTHEAD PHOTOGRAPHS BY: Rock/ Zelma Beard… Face and Tree/ Doug McCulloh