Local author and regional literary laureate (2012-2014) Gayle Brandeis and I walked  my favorite part of Fairmount Park mid – December…click thoughts to read Gayle's reflections on our time together… KCET/Artbound article "Sue Mitchell's Year of Art"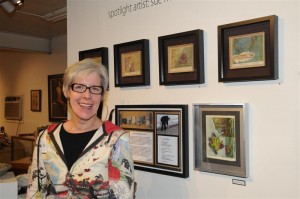 What amazes me about this article is that we never stopped walking and through it all Gayle was asking questions, looking, walking, listening and sometimes writing…she had no tape recorder! She captured everything, including me saying "desert island" instead of deserted island. I can barely walk and talk at the same time. If you aren't familiar with Gayle Brandeis please visit her website.
I want to thank all the family, friends, and new friends that joined my blog the past two weeks. Your interest really will help keep me motivated and on task. I plan to post every week or two. Please remember I am new at administering a website/ blog by myself (though I know Catina at RPS is a phone call away!) so you my notice some technical issues at times. This is an informal way to stay in touch so I am sure you will understand.
Tomorrow starts a new phase in the project…less talking and more doing. The dreaming, planning and getting the story out phase is over! 
Last week I met with one of my advisors, Doug McCulloh, and he seemed pleased with my progress but the reality is that 90% of the project is still left to do. YIKES!! Next post I will show you a picture and share some stats that will make it even clearer why I had better get my act together…IMMEDIATELY!!!!
THANK YOU AGAIN FOR ALL YOUR SUPPORT!!! …xo…sue