february 9 2013
I have been busy since I last wrote and that is good!
I'm thrilled with the video that Jane Carney's daughter, Lynne Westafer made capturing my "a love affair" show/story  http://www.youtube.com/watch?v=YlxWlI1XbGk If you like it please say so in the youtube comments. Lynne's business is "three, two, one productions" and good comments could help her grow her business.
If you are on facebook, then you are aware that one of my "52" trees was tagged. The parks dept responded quickly so it is looking better but it will never be the same. I know I shouldn't but I take it so personal!!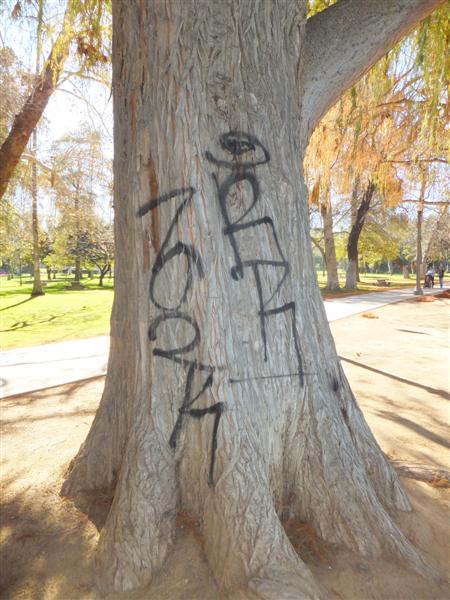 SAVE THE DATE…"52″ will be open from Oct 3 2013 through the end of the year. October 18th will be the opening reception so please save that date.
I met with my two mentor artist, Jan Harvey and Kathy DeAtley, over the weekend. Jan is the regional expert in solar plate printmaking and Kathy is a master printer having work in some of California's top print studios. They are both giving me expert guidance in my 52 tree "senior project" that will hang in the DeVean Gallery. I still left the meeting feeling a bit overwhelmed…the reality of doing is going to be much harder than the reality of dreaming….but I am in good hands. 
I am currently in a watercolor and acrylic painting classes at the Riverside Art Museum. I have never painted so this is painful at times. Watercolor is the hardest …acrylics a little easier though I thought it would be no big deal to whip out an abstract acrylic painting and….but it was! The best part of this phase of learning, the humble student phase, is the increased appreciation you develop for the many fine artist you know and admire.
Another big reality… I built a scale model of the two galleries. It took me three times to get the measurements accurate….so now I am intimately familiar with every inch…that's the good news. The omg news is this…my first show at the rcaa gallery was on a 15 ft wall. I now know that I have 190 ft  of wall space to fill in these two galleries!!!! So, if you are wondering why you never hear from me anymore… it is because I'm in my studio!!! 

Thank you again for being interested in my journey and for all your support…YOU ROCK…sue