August 11-18 2012
CAMBRIA
First time back since we had to sell our rock cottage a year and a half ago. It wasn't quite as hard as we anticipated …maybe waiting so long to return helped a little. We were one of millions who purchased at the wrong time and with the hit we've taken because of being in the employment industry we had to sell our dream get-away.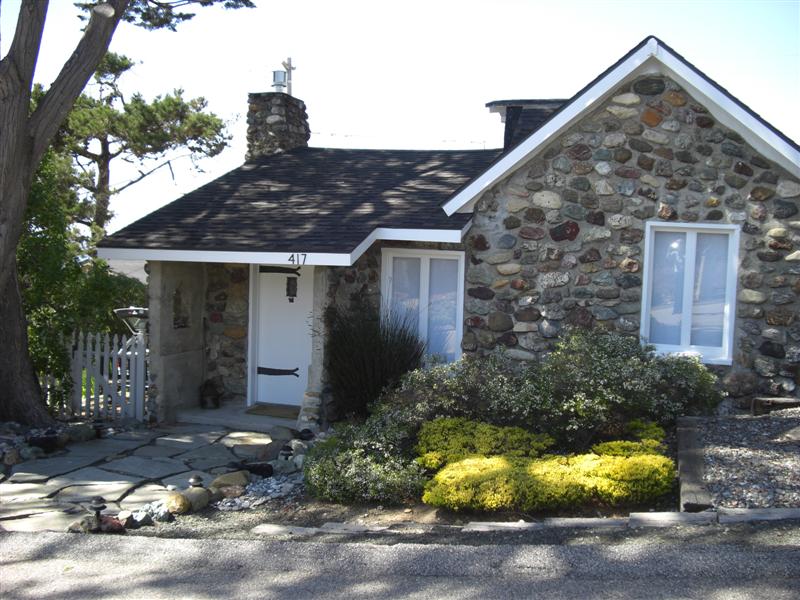 800 sq ft stone cottage…built in 1929. We saved it from being demolished.
Back in the early days of Riverside Personnel we worked 60 -70 hour weeks. We didn't take much time off. Cambria was the closest place we could find that was away from everything and we were able to relax. I started collecting the rocks because it was so mindless. I've been collecting rocks in Cambria for 34 years…thus the love affair!
I say I could tell my life story through rock collecting…someday I will. Until then an art piece will have to do.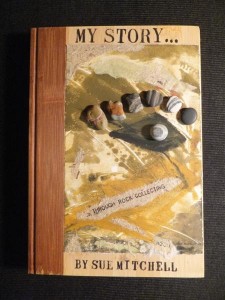 The routine…reading, sleeping, eating, walking the beach and sunset happy hour everyday with our friends Jim and Phyllis. It was perfect…well except for Zee's bad hip that kept her from the beach walks…the rest she managed beautifully.
I walked the beach and collected rocks for two to three hours a day.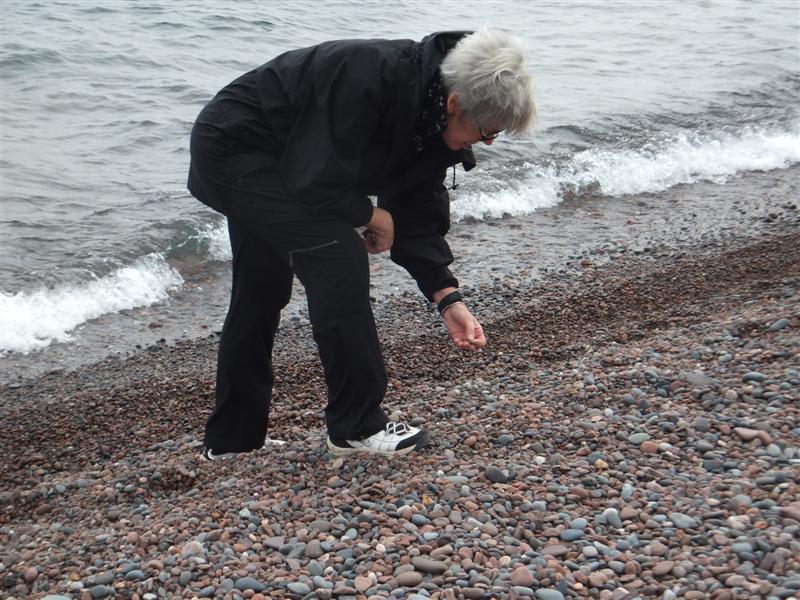 Once I collect them I do some serious sorting….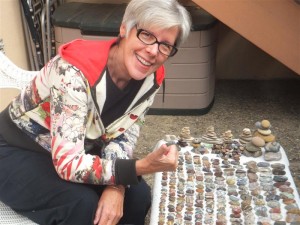 I have devised a technique for ensuring quality control. I only collect dry rocks (they all look pretty wet) that catch my attention standing up. It has to be be spectacular for me to bend down.
"A LOVE STORY"
Walking slowly
Eyes excited
Waiting for the moment
I am willing to bend
If the rock touches me
From afar
You can imagine my joy
Up close
Pocketing my sandy treasure
I repeat
My endless search
With deceiving deliberance
Sue Mitchell April 2010
PS I think I might have made up the word "deliberance" but I needed it for my poem. Please weigh in if it is a real word or not??
August 2, 2012
Having a hard time regulating my time now that I am not on a 8-5 schedule at RPS for the next year…
I can't get up early because I'm staying up too late
I can't get out for my walk early because I sleep in
I can't get into my studio until the afternoon because I get back from walk late
I stay up too late… 2:00 – 3:00 am…to get all my work done because I got up so late
It is a cycle that I just may need to give into…same amount of hours…stop fighting it!
I will be referencing walks and Fairmount Park a lot in the blog…technically I'm working when I am there…the park is my main classroom for the year.
July 31, 2012
THE RIVERSIDE ART MUSEUM HAS AGREED TO ALLOW ME TO HAVE A TWO – GALLERY SHOW IN OCTOBER 2013!
The meeting with Drew, the Executive Director and Kathryn, the museum curator started with some concerns regarding the use of the space and funding – by the time we were done they seemed very excited.
I AM SO ANXIOUS AND SO EAGER!
I think I'm a little crazy – a lot crazy.
Zee met me at the Mission Inn for a celebratory drink. We both may be drinking for different reasons…:) Doug, I promised you a sushi celebration….
PS I am so lucky…good health, this amazing creative learning experience ahead of me, the beautiful park for a classroom, a special home, Zee, David and our little pups …Lola & Ellie, wonderful friends, a special artistic community (especially my mentors and advisors) an historic downtown and a 34 year old business with a fine reputation maintained by hardworking, loyal co-workers. I am so fortunate  and I do not take it for granted.
July 30, 2012
3:00 today is the meeting with Doug, Kathryn and Drew….nervous! I have this show so visualized in the Powell/ DeVean Galleries that I'm not sure what I'll do if they say no. Doug, has the pro's attitude…"we'll just find another space."
I pushed for the meeting because I was hoping to know their answer before my RCAA show Oct 4th. That is when I am going to be announcing my self -directed studies and would love to be able to announce where the show would be in Oct 2013. For RAMs sake I didn't want them to miss out on any publicity that might come from the announcement of this year-long project.