September 4, 2012
Nice four-day Labor Day weekend at home – the grand ending of our wonderful month of get-aways. Good thing…because as of today there will be no vacations for 14 months. My life is soon to change dramatically as I prepare for my spotlight artist show at the RCAA gallery (Riverside Community Art Association) and the start of my year-long sabbatical (Oct 2012-Oct 2013). I am determined to enjoy this adventure and not let myself stress.
My Labor Day tradition… 10am-5pm trip into LA by myself…
11:00 Geffen MOCA
12:30 Grand Ave MOCA, lunch @ Lemonaid
2:00 LACMA
4:00 Drive home
It is fast but there is no traffic and I get in all the museums FREE.
Got a great picture with Heitzer's ROCK … amazingly, with one try, a stranger got a great shot.  Even more amazing – there were hundreds of people walking through the tunnel but in the picture I am all alone. WHERE DID ALL THE PEOPLE GO??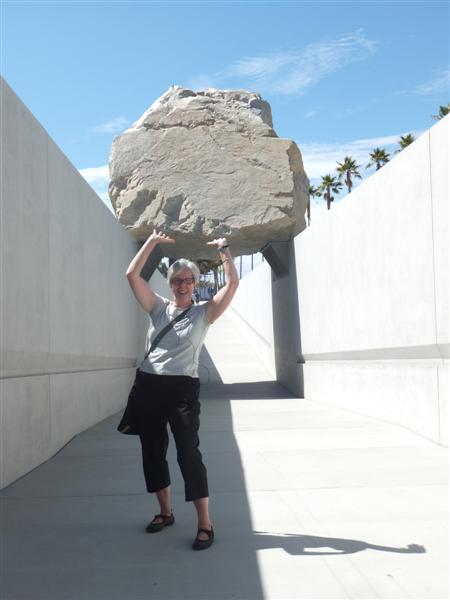 Heitzer Rock @ LACMA
P.S. 35 years ago David was born on Labor Day…it was a joyful labor of love. He is the best!!!
August 24-28, 2012
MINNESOTA
kayaked two hrs every morning
three hours in gazebo reading, thinking and organizing every afternoon
cocktail cruises in the evening
no TV so we escaped politics for a few days
Jane was a wonderful host
four days of perfect weather
Walker Center in Minneapolis- nice lunch, great 20 minute video… Rauschenberg, Cunningham & Cage being interviewed 25 years ago…all were so engaging