July 27, 2012
I had a big break through …I printed today! My dirty little secret is that I have had a small press for several years….that Zee gave me for Christmas…but I have done all my printmaking in classes. I needed to print alone and use my home press. It was like a writer's block…I'm now on the other side…makes me want to have fun and experiment but no time for that now, must get the RCAA show ready.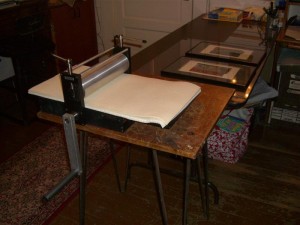 Kathy DeAtley, one of my mentor instructors  for the year and a master printer, stopped by – she is so supportive – gave me tips for setting up the studio for efficient printing!
OK, I must admit that I'm having a rainbow of emotions connected with not going into work every day. I feel free, excited, giddy, lost, scared, and trapped by the project I have created. I have to realize that my job now is to make art and that that is ok.
Sometimes I wonder why I set up such an elaborate plan for the year…it could have be such a fun, stress free time. But we all know the answer…I just wouldn't have accomplished as much, even with the best intentions.
There is a favorite quote of mine…"There is no heavier burden than a great opportunity"