may 28, 2013
However I look at it …another five weeks just disappeared…and 2/3 of my year is over!!! I am busy, all of the time, doing or thinking about art and the project … reading, watching art videos, visiting museums and studios, making art, walking the park and documenting my activities…. but the "to do" list never seems to get any shorter?!!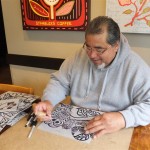 I spent a few days shadowing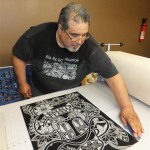 artist/ printmaker Jesus Cruz…watching him carve  linocut plates at his office @ Starbuck's on Arlington and then over to Division 9 for a printing demonstration. Jesus is a precise and prolific carver….amazing to watch! I love the process and I'm working on a couple of pieces.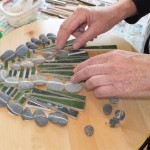 I took a mosaic class from Cathy Maxwell. Cathy and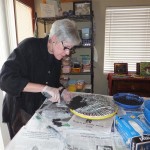 Greg Maxwell created the spectacular mosaic GIANT ORANGE (now at Riverside Plaza down by Chico's) They were commissioned to make a second ORANGE for our sister city, Sendai. As a mixed media artist, mosaic seems like a natural extension for the art I am interested in making.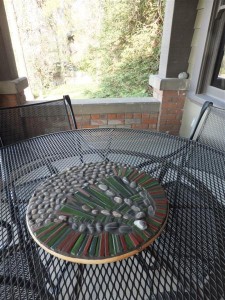 I wanted something practical… a lazy Susan for the front porch…I'm tired of all the good appetizers being out of reach!!

  I see some rocks in this creation…imagine that! 
In about three weeks I will start printing the "52 Trees" portion of this project. Spent four hours over the weekend with Kathy DeAtley, my mentor artist for this phase. Kathy is a master printer, having worked for some of the largest print shops in LA earlier in her career. Kathy ran the press at the three Monothons (printmaking fundraisers) that I participated in at the Riverside Art Museum (RAM). One of my monothon pieces was selected for the permanent collection at RAM.
We reviewed a checklist to make sure I had all the supplies… tested to be sure the press adaptations I made were correct…discussed how I needed to rearrange my studio and extra bedroom (the shower in the guest bath will also be in play) We're preparing for as many as 250 prints to come off my press. This is a big project  and has me anxious…I have printed very little in my home studio…almost all my printing has been in classes. I originally thought I was going to print this project somewhere else where the studio was set-up and on a bigger press but Kathy insisted that I print this in my studio. The upside is that after this project I will be a confident printmaker in my own studio.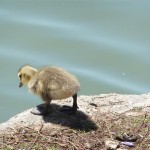 This is the time of the year when there are a lot of baby birds so every day I usually wander the entire park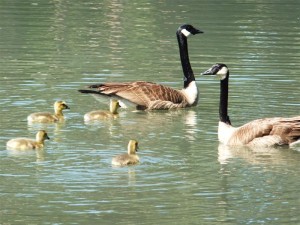 seeing how many I can find. The survival rate seems to be better than usual…I'm thinking because the raccoons got pretty well wiped out last year by disease. On Mother's Day I counted 25 babies. Fairmount Park still delights me everyday!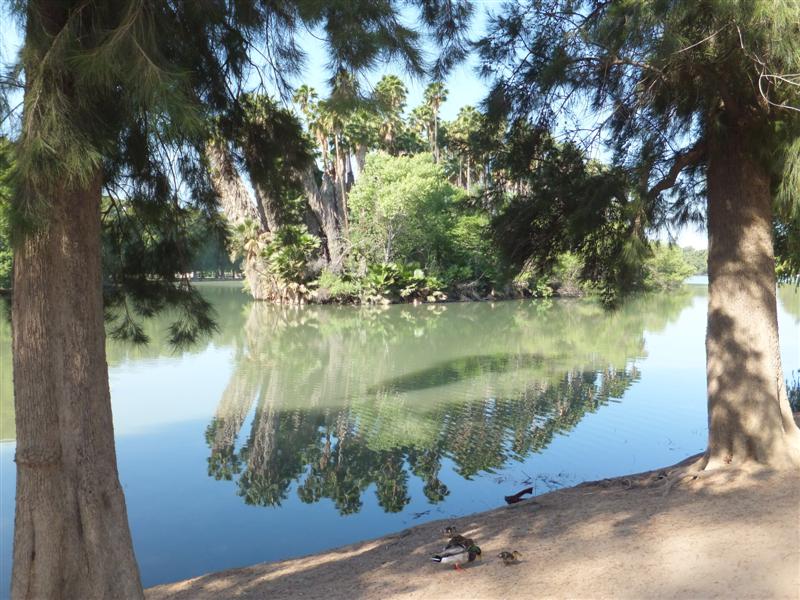 All is good…all of the time…sue
PS Opening night reception…Friday, Oct 18th