April 2013 UPDATE:
CONFIRMED: Opening night for my year-end show "52″ will be on Friday, October 18th from 7pm – 9pm at the Riverside Art Museum.
I am half way through my 52 week arts sabbatical. If you want to check in on how I am doing, please visit my blog.
September 2012
Dear Old and New Friends,
On October 1, 2012, I start on an exciting journey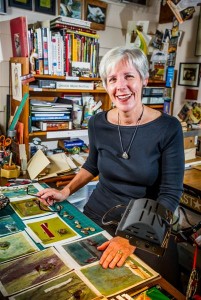 to celebrate my 60th year. I will be taking time off from  Riverside Personnel Services, the firm I co-founded in 1978, to engage in a year-long arts sabbatical. 
The sabbatical will kick-off in October with my first ever exhibit "a love affair" (video) at the RCAA Gallery in Riverside, CA. The year of art will end with a two-gallery show "52″ at the Riverside Art Museum in October 2013.
The following articles will help explain my art adventure…the Press Enterprise's/ "Sue Mitchell's love affair" … Riverside Magazine's/ "A Year of Artistic Discovery" … KCET's Artbound Series/ "Sue Mitchell's Year of Art" and a video of the show "a love affair".
The photo banner above is of the Montezuma Palm Cypress trees at Fairmount Park in Riverside CA …500 steps from my front door. ("as the crow flies") These trees play a big part in my 52-week project. "Last year I had  "a love affair" with rocks…this year it's trees … "52″ of them!" To read the story behind the love affairs go to my "exhibits" link. 
I am hoping that those of you with continued interest in my undertaking will subscribe to my blog (subscription button is at the bottom of this page) giving me some much needed accountability. You don't even need to read it…I just need to think you are!

I embark on this journey with great excitement and a healthy dose of anxiety. I am determined to enjoy every moment.
Your support ROCKS my world…sue